The go-to gemstone for many brides these days is Emerald. The stone looks royal once worn and gives off a graceful and charming vibe when paired with any outfit. Against an Indian Lehenga, a White gown for a Church wedding, or even a dress for cocktail parties of graduation, this stone is often the first choice as it looks so serene on any woman. The categories of jewelry that Emerald fits into are countless. Designers go all out in finding ways to cut this stone to reveal the sheer brilliance and magnificent characteristics it shows. When cut and placed against different backgrounds, the stone can elicit different properties and shows the mysterious looks that it is able to demonstrate.
Not only the brides of this generation but also other young and older women that are looking to celebrate a certain event, gift a friend, or even the ones who are simply looking to purchase some good jewelry to build their collections are choosing emeralds. The color and composition of this stone add to the glam factor and enhance the woman's charm by ten times. Known to be the gemstone of the Goddess Venus, the deep color and extravagant beauty lure the women towards it and its mysterious beauty.
Is this stone replacing diamonds as a girl's best friend? Let's find out by taking a look at some of the hottest trends in Green emerald earrings in 2022.
Circle Halo earrings– Technically, it would be wrong to say that emeralds haven't been trending since time immemorial, however, the recent spark and attraction that this stone has created has been one of the highest in jewelry. Add halo-style earrings on top of that and have yourself a classic form of art. Find halo earrings in different variations like – a circle in 14k gold with a couple of layers of diamonds surrounding the main green gemstone; a 4mm round halo earring with one layer of diamonds. These earrings tend to be elegant and are known to charm any girl who wears them.
Studs– Simple studs are something most girls wear almost daily. Imagine wearing emerald studs that are green studs that highlight your ears in the most admirable and stylish manner. This color is known to accentuate the whole face of the woman as it lights up in glamor. You can find the most minimalistic style and pattern in studs like – a brilliantly cut 6x4mm solitaire-style earring. Another style could be the one in a silver-plated format with a tiny diamond at the top of the emerald. Wear these studs and exude an easy and charming fashion sense with this flattering look.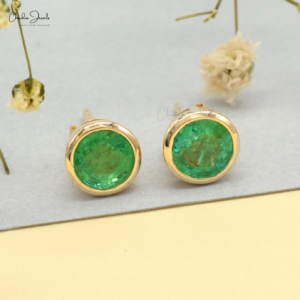 Half-halo– This is one of the trendiest options in the fashion game of 2022. A natural emerald stud in 14k gold is one of the best earrings you will see in a long time. With the royal look of a halo but a chic one of its own, this one is sure to make your heart skip a beat. Wear this set of earrings for anniversaries, parties, birthday lunches, or any celebrations, it is striking enough to catch the eye of anyone who is around. Explore your sense of style and wow the onlookers with this set of half-halo earrings.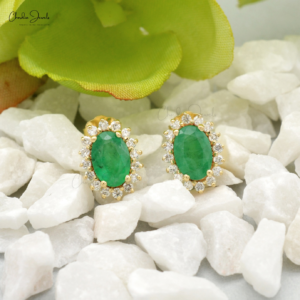 Drops– Looking for an elegant piece of jewelry? Stop your search right here. One of the classics in the form of drop earrings is now here with a twist of emerald green. Considered to be one of the most minimalistic but charming pieces, you can easily adorn this look even every day. This is such an accommodating ornament that it finds itself easily molded into different looks – wear it with a power suit or a cute day dress, and enjoy the compliments flooded your way. 2022 is going to be all about subtlety, what better way to exude simplicity with these earrings.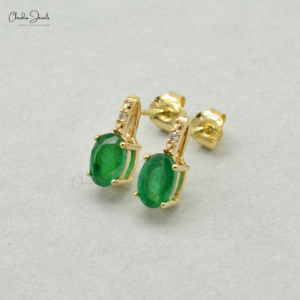 5. Criss Crossearrings – Find earrings that are in the form of studs but more stylish with this crisscross look. A perfect companion for date nights or anniversary gifts, these earrings have a look that is unique and well-loved. A stunning criss cross 14k gold plate that is embedded in tiny diamonds with a spherical emerald below it – how could it not look great? This can be the go-to gift option for your loved ones this year. Feel loved and powerful all at the same time with this look.
6. Crown Halo earrings– Halo earrings have a lot of different styles – you can choose the ones you like the best for you. Owing to the massive popularity of this style among women, the designers create several looks based on different tastes.
If you are looking for a slightly bigger earring, you can opt for the halo earring that has an emerald in the middle but a floral motif patterned with diamonds surrounding it. This is eye-catching and is a good fit for cocktail parties or even wedding receptions. A slightly smaller version of this would be the crown-shaped diamonds immediately surrounding the emerald in the middle. Even though the emerald is larger, the earring, overall, is dainty and trendy.
7. Detachable– Get your money's worth by investing in this two-in-one earring. Made in the halo style, the flutter of diamonds surrounding the emerald can be detached so you can wear the emerald as a stand-alone piece as well. Change your look without actually changing your look with this stunning piece of jewelry.
After taking a look at the hottest trends in emerald-green earrings, the wait is no longer justified. Head over and purchase this brilliant gemstone to add as a part of your collection The multi-faceted earrings can be worn anytime with any outfit and is a stylish look.
The natural emerald earrings are a beautiful and timeless addition to any jewelry collection. Chordia Jewels exceptional quality, intricate design, and versatile style, these earrings are a true investment piece that you'll treasure for years to come.