As the warm summer days start to mellow into autumn, planning a late summer wedding is a great way to blend the best of both seasons. The crisp air and gentle sunlight offer a picturesque backdrop for a truly enchanting celebration of love.
Every aspect deserves careful consideration, from selecting the ideal color palette to finding the dream wedding dress. If you're unsure where to start and which wedding dress designers in Denver to choose, you're at the right place. This guide will walk you through the essential steps to curate a memorable late-summer wedding.
Planning A Late Summer Wedding: Everything You Need to Know
1.      Crafting a Captivating Color Palette
The first step of your wedding planning journey is choosing the perfect color palette. Late summer offers a rich spectrum of hues that can be effortlessly integrated into your wedding theme.
Think about warm oranges and yellows reminiscent of sunsets, serene blues that mirror the clear skies, and deep greens that reflect the lush foliage. These colors can serve as your primary palette.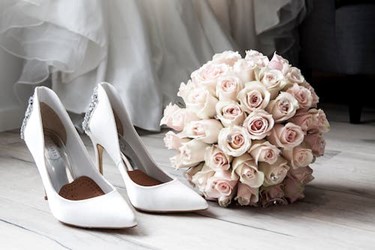 2.      Selecting the Dream Wedding Dress in Denver
Finding the right wedding dress in Denver is one of the most exhilarating tasks in planning your late summer wedding.
With numerous options available, it's essential to start your search early. Explore the latest trends and styles, keeping the late summer backdrop in mind.
Flowing silhouettes and lightweight fabrics can be an excellent choice to keep you comfortable while exuding elegance. Platinum Bridal has dresses by some of the best wedding dress designers in Denver, making it easy to find your dream dress.
3.      Finding the Ideal Venue
Your choice of venue sets the tone for the entire celebration. Late summer allows for versatile options that perfectly capture the seasonal charm, whether you like open-air garden venues or rustic barns.
Whichever you choose, ensure it aligns with your color palette and overall theme. The venue should seamlessly merge with the late summer ambiance.
4.      Designing Enchanting Decor
Your wedding décor is where all the details truly shine. Incorporate elements that enhance the late summer feel, such as wooden accents, twinkling fairy lights, etc. You can also add centerpieces decorated with seasonal fruits and wildflowers.
Personalized touches like handwritten place cards and custom-made table runners can infuse your unique story into the décor. Let your creativity flow while keeping your chosen color palette in mind.
5.      Culinary Delights Inspired by the Season
Late summer offers seasonal produce that can be artfully woven into your wedding menu. Consider refreshing salads featuring ripe peaches, heirloom tomato bruschettas, and grilled vegetable platters. Complement the dishes with healthy fruit drinks featuring late summer fruit flavors.
6.      Capturing Moments That Last Forever
No late summer wedding is complete without a skilled photographer to capture the essence of the day. The soft lighting of the season casts a flattering glow, enhancing the romance in every shot.
Candid moments shared between you and your partner are all worth preserving. Select a photographer who resonates with your style and vision. Thus, ensuring that every cherished moment is beautifully captured.
7.      Invitations that Evoke Anticipation
Your wedding invitations provide the first glimpse of your late summer celebration. Consider designs that incorporate elements like watercolor sunsets or even subtle textures.
Use fonts that capture the inviting and romantic mood of the season. This sets the tone and gets your guests excited about the upcoming festivities.
8.      Stunning Floral Arrangements
Flowers are a hallmark of weddings, and late summer offers many choices. Incorporate blooms like dahlias, sunflowers, and zinnias into your floral arrangements.
These vibrant and colorful flowers can be used in bouquets, centerpieces, and aisle decorations. Work closely with your florist to create arrangements that enhance the season's natural beauty.
9.      Favors Inspired by Nature
Show appreciation to your guests with wedding favors that reflect the season's beauty. Mini jars of locally sourced honey or personalized seed packets make meaningful gifts. Attach a tag with a heartfelt note expressing your gratitude and tying the favor back to the late summer theme.
Final Word
So, are you ready to start planning your late summer wedding? Platinum Bridal can help you perfect a wedding dress in Denver. Their dedicated team understands the nuances of a late summer wedding and can help you find the dress of your dreams.
They will ensure it harmonizes seamlessly with the season and your unique style. Check out their wedding dress designer collections in Denver, or contact them today to learn more! Platinum Bridal can transform your late summer wedding dreams into an exquisite reality.